Have you ever stopped to think "why should anyone care" about you, your business, the thing you're selling?
The truth is no one does…until you give them a reason to.
That reason is what I call your opinionated worldview.
Today on the podcast you'll discover…
What an opinionated worldview is (and how to create yours)
Why you need one
How your worldview acts to bring you better clients (and premium fees)
The #1 ingredient your worldview must include to work
And more…
If you're getting caught in price competition, this is the way out.
Listen Now | Watch on YouTube.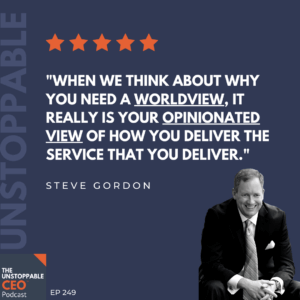 Mentioned in this episode:
Enjoyed this episode? Rate this podcast on iTunes >>