If you've ever wanted to stop trading time for money and find a way to "productize" your services, this is the podcast for you…
My guest today is Max Traylor and he turns service businesses into productized, scalable, profitable firms. Max explains the key elements of the productization process, including:
The 3 levels to productize any service
Defining the MOST valuable service you provide
How to sell your packaged service
What you can do right now with your current service proposal
And so much more…
If you've been looking for more leverage, tune in to Max.
Listen here of watch on YouTube.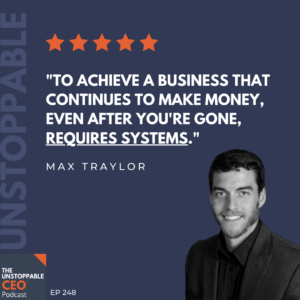 Mentioned in this episode: