In this episode, I sit with "Mr. Connected" Justin Breen to unpack how he conceived of and launched his second company BrEpic Network in under a year without doing any additional work.
This is a deep dive for the visionary entrepreneurs in the method for bringing a new idea into reality using Who Not How thinking.
Inside you'll discover:
The genesis of the BrEpic Network idea–he calls it LinkedIn without the noise.
How Justin found the perfect "Who" to turn his idea into reality.
Key criteria for any high-level collaboration.
How to short-cut years of pain and struggle.
The four levels of entrepreneurial mindset.
Listen now | Watch on YouTube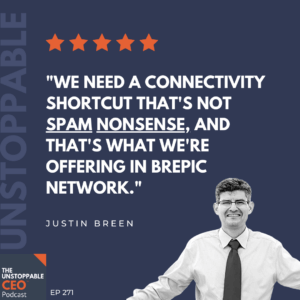 Mentioned in this episode: