Ever feel like LinkedIn is a waste of time?
Wonder why more people don't connect or reach out to you?
Today on the podcast we're going to fix that…
My guest, Judi Hays, is an absolute LinkedIn expert.
She's made a career of turning underperforming profiles into prospect-attracting powerhouses…
And has developed a proven strategy to convert LinkedIn connections into targeted buyers.
Judi's strategies go beyond the usual time-wasting LinkedIn hacks.
They're timeless, human principles that build lasting relationships and lead to revenue opportunities.
Judi will show you why…
… blasting dozens of prospects a day never works
… showing up as a human is the killer strategy
… her 3-part Elevate-Expand-Engage strategy wins more clients
Listen | Watch on YouTube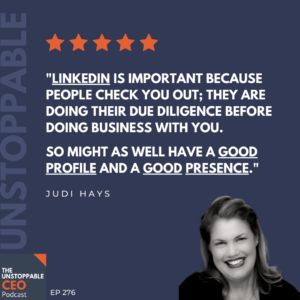 Mentioned in this episode: