Any business can grow and scale in good times.
Can your business thrive and survive through tough times?
John Jantsch has 5 steps for consistent growth that any company can utilize in any business climate. The author of The Ultimate Marketing Engine and Founder of Duct Tape Marketing returns to the show this week to talk about his new book, "hourglass marketing", and how you can rev your marketing engine by making your business more meaningful to your customers.
John trains and licenses consultants all over the world in his unique approach to marketing. In our conversation, he lays out that approach with a ton of actionable items for listeners, including:
The 7 steps of the customer journey
How to set up a Customer Success Track for your ideal clients
Creating a "member mindset" in your customers that will boost business and referrals
And more
Modern marketing isn't about tactics anymore, it's about transformation over transaction. Learn how to create happier customers by helping them transform, and then watch as those customers drive your referral engine to new heights. Don't miss out!
Listen here or watch on YouTube.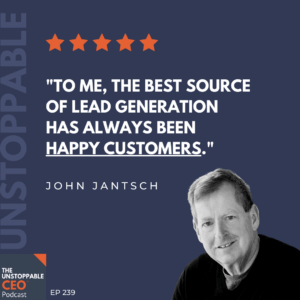 Mentioned in this episode: