Part two of our conversation with John Curry.
When John lost his leg four months ago, he translated his mindset tools from business success to his physical rehabilitation.
He also drew upon his talents to become more productive with one leg than most of us could be with two.
How? That is what we are talking about on this episode.
John shares with us how he kept his business growing and personal life on track while literally getting back on his feet. His insights include:
A "real life" look into how a life-threatening crisis became a catalyst for productivity
How to never again get stuck in a dip on the path to your goals (and when walking away will make things better)
A "blueprint" for creating a crisis-proof business
And much, much more…
If you missed the first part of my conversation with John, be sure to go back and check it out. His life-changing story will change yours (and how you run your business).
For Part 2, Listen here or watch on YouTube.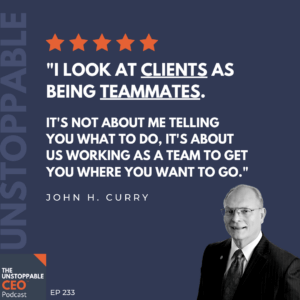 Mentioned in this episode: