Jeff Badu has gone from immigrant to entrepreneur before the age of 30. His ventures include financial services, real estate development, and asset management. He joins the podcast this week to talk about his journey from Ghana to Chicago and how you too can create abundance in your business.
As a CPA with clients across the country and around the globe, Jeff has gained important insights into how business owners create and protect their wealth streams. He shares with us:
Why you're probably overpaying on your taxes
How to get control of your business's finances
How to become a wealth multiplier
How to use your entrepreneurial skills to create community impact
And more…
Don't miss this one!
Listen here or watch on YouTube.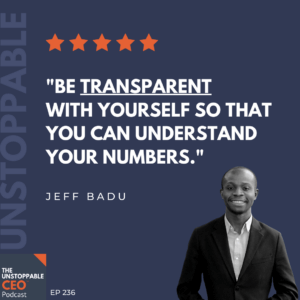 Mentioned in this episode: