The Million Dollar Book is live!
I wrote The Million Dollar Book to give you a 30-day roadmap to creating your own lead-generating book that will produce 7-figures of revenue for your business.
I've found that a book is the single best way to generate pre-sold clients for a high-ticket service…
It works better than webinars, online ads, and direct mail…
It supercharges referrals, creates better, more prepared clients, who place a higher value on what you do.
It gives you instant credibility that attracts clients today and for years to come…
The problem is that most people believe writing a book is a huge project that requires many months (or years) to complete. It doesn't have to. Do it right and it is easy and fast.
In today's episode, I'm giving you a preview of The Million Dollar Book.
Listen to find out:
If a book is the right next move for your business
Why you should avoid bestseller-in-a-box services
Why books are your best lead-generating asset
How you can write your book in just 30 days and have it published and working for you in 90 days
And more…
Listen | Watch on YouTube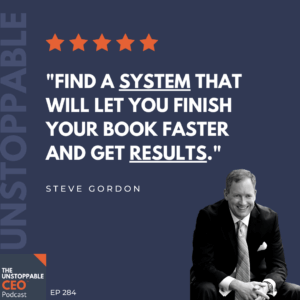 Mentioned in this episode: