Ever have a challenge getting a prospect to make the buying decision NOW?…
They want to think about it…
They want to talk it over…
They're getting quotes…
What all of that really means is that there's not enough attraction. Prospects hesitate when they're not clear that you're the only option for them.
It's your job to eliminate all the other competition.
Now, the "old school" selling method is to apply pressure to force the decision.
Contrary to popular belief, it still works…but you'll get bad clients.
Better to build a process where the prospect mentally eliminates the competition for you…
Check out this message from Pistol Lake. They make men's t-shirts: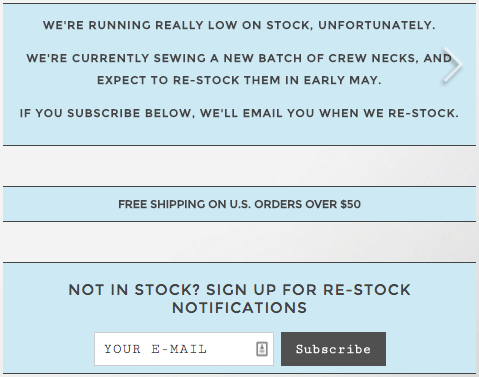 First, the scarcity (no shirts today, comeback soon) is both believable and totally manufactured…
They could produce shirts in mass quantity.
They CHOOSE not to…
So, they're out of stock more than in-stock. And if you want one, you'll sign up to get an email when they're available…
Then RUN to the nearest computer when you get that email, so you might be one of the lucky ones who gets a shirt…
And when you do, you're not comparison shopping at WalMart or Gap…you're just buying the shirt.
For a 500% premium over WalMart, by the way.
So much for competition…