A lot of the effort put into marketing these days is not much more than shooting in the dark. Yes, you might have posted on LinkedIn three times today, or cranked up the tweet-o-matic, but what have you accomplished.
It's not that social media (or ads, or the latest cool marketing automation hack) is bad, it's just that for our kinds of businesses—those that require clients to write big checks and have real trust, those "thin" forms of marketing are the supporting cast, not the stars.
And, we've forgotten, that the real work of attracting and winning clients is fundamentally about creating relationships—real ones, with people…in the real world.
Today, I offer a framework for doing that.
The Problem with (Business) Relationships
Let's be honest. There's a real problem when it comes to building business relationships—it takes a lot of time.
I'd argue that the reason you see all of these "shortcuts" out there promising to skip the relationship factor is precisely because we all know we need them, yet few of us have time to cram relationship building into an already over-full plate.
And, I'm not here to preach that you need to "make time." I've been on the receiving end of that for too long. I don't think making time is the real issue.
No, the real issue is that you're not prepared to act on relationships when you have a moment here or a moment there to advance the ball. So let's try to fix that.
Understanding the three factors that create relationship
When you're looking to build business relationships, I think there are just three factors to focus on—familiarity, relevance, and likability.
The Factor of Familiarity
Boy o' boy familiarity is dramatically undervalued. It is the single most important factor in a client choosing you. Think about it…if they're not familiar with you (i.e. you're unknown to them) how can they possibly choose you? ? ?‍♂️
That sounds so painfully obvious, I know. And we ALL suffer from a lack of familiarity in "the market." It's just a matter of degrees. This problem is why I'm an advocate for drawing a circle around the smallest possible market that will support your business. That might be 100 people or 1000 people or more. But focus on the smallest possible market.
When you do, you can begin to create real familiarity, human-to-human. I know it sounds like it doesn't scale, but you'd be surprised. Plus, there are some innovative ways to scale familiarity.
Familiarity requires the frequency of contact. And, ideally, you'll accomplish that contact with face-to-face/phone and back it up with media—an email newsletter, a podcast, a webinar, social media posts—to create the feeling that, once you make contact, you're everywhere (without being a pest).
The Factor of Relevance
Can I be honest with you? This factor of relevance is what stops most people from developing strong business relationships. It's not that you don't want to be relevant, it's that right now, in the moment you have to reach out, you don't know what to say to the other person that would be relevant to them.
That's a problem of information, and it can be fixed.
You don't know what information you need and you don't have a place to keep it (where you'll find it again). And no, notes you made a year ago on the back of a business card that's floating around the bottom of your briefcase don't count…'cause you can't find the card!
Oh, and why is relevance so important? Two reasons: 1) It's the price of attention; 2) It shows you care about the other person.
The Factor of Likability
The old "know/like/trust" cliche is worn out, yet still valid. And yes, your future clients need to like you if you plan on turning them into present clients.
So how do we get 'em to like us?
Look, I'm not above "buying" love. We get them to like us by doing something nice for them. Yes, you did learn everything you needed to know in kindergarten. And, I don't know about you, but I need to be reminded of it often!
My go-to "nice" thing is to invite the person to be a guest on The Unstoppable CEO Podcast. It helps them get in front of new people for their business, we get to spend about an hour together on a video call, and we have a really good time in the process.
Plus, we've built a "WOW" experience for guests that includes shipping them a big box in the mail with a talkable gift. The point is, we go out of our way to get them to feel great about our new relationship.
(If you want this kind of marketing done-for-you, we can help. You can see how we work or book a 20-minute call.)
Now that we know what we're aiming for let's get organized for efficient and effective relationship building.
How to organize yourself for relationship building in minutes a week
The #1 reason you're not building the quality or quantity of business relationships you want and need is that you don't know, in the moment, what to say to a potential client or influencer.
There are two versions of this problem:
What to say to someone you don't know, but want to start a relationship with.
What to say to someone you already know, to take the next small (or large) step forward.

Opening relationships – What's your "go-to" opener?
To solve the first problem, I've always leaned on a "go-to" method for opening relationships. Back when I did in-person local networking, I'd set up shop at a coffee house and book a dozen 20-30 minute coffee dates.
Now, I use a more powerful (and more valuable) method…as I described above, I leverage the opportunity to be a guest on our podcast to open relationships and get them going strong right from the start.
Staying relevant over time
The second problem—how to stay useful and relevant over time—is more difficult. And, it requires some thinking and organization. I've found that by breaking down the critical information that enables me to grow the relationship into four categories, I can very quickly accumulate enough knowledge to stay relevant for a long time.
Here's how I do it…
The four categories of business relationship data
If you want to be a hero for your future clients and the key influencers that matter to you, there are only four types of information you need.
The vision or goals of the person—where they are going.
The challenges they believe they face—what they think is in the way of achieving their vision.
The types of connections they want—who they think will help them in their journey.
The business and personal "vitals"—the few key demographics that give you context for the company and the person.

That's enough.
The 3×3 Prospect Analyzer
I track nine data points across the four dimensions listed above.
3-Year vision.
Dangers the prospect believes she needs to eliminate in the next three years.
Opportunities that would make an impact if realized in the next three years.
Strengths of the organization and the individual that need to be leveraged over the next three years.
(for insight into how I gather these first four data points read The Dan Sullivan Question.
Connections Wanted – the type of people the prospect want to connect with.
Connections to Make – People I've thought of to connect with the prospect.
Connections Complete – The people I've already introduced to the prospect.
Business Vitals – Demographics such as industry, company size, who they sell to, how they sell.
Personal Notes – Spouse, kids, alma mater, interests, etc.

Here's what the 3×3 Prospect Analyzer looks like: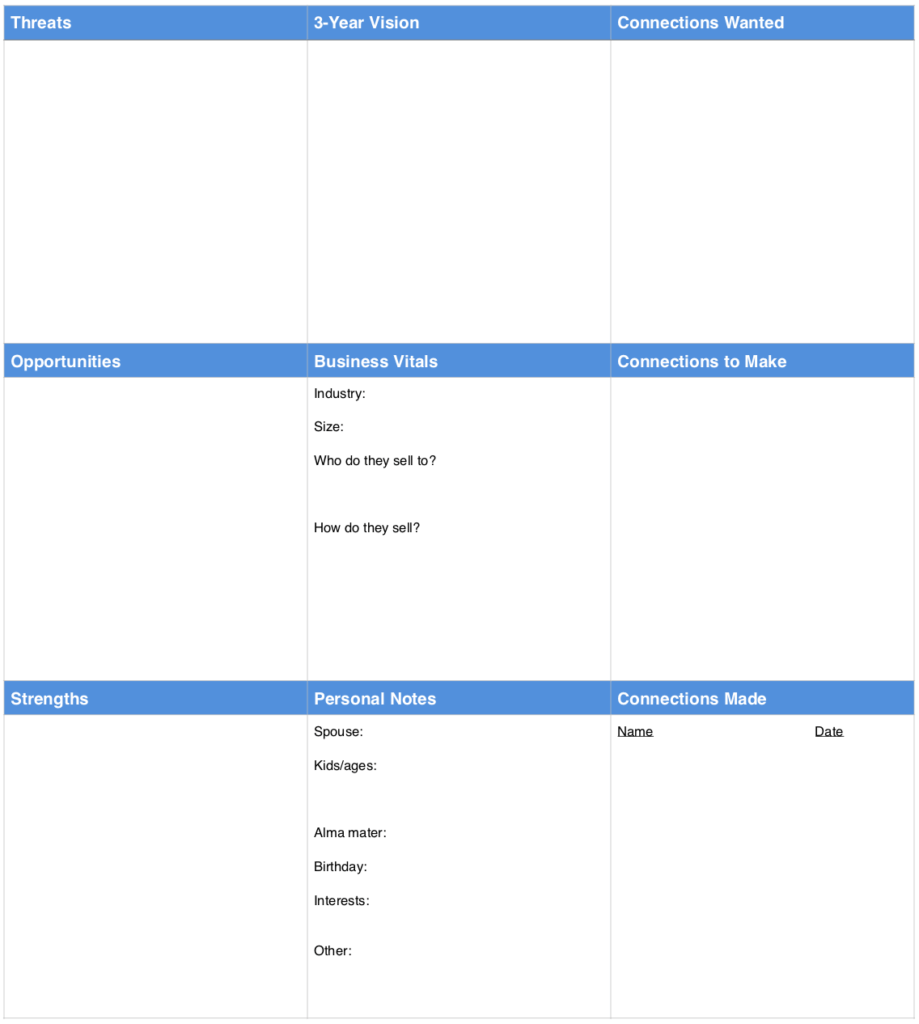 I do my best to gather much of the information at the start of the relationship, but anytime I have a conversation I'm looking to add to my structured knowledge of the person.
In doing so, I then have all of the raw material needed to be relevant every time I show up. By knowing the 3-year vision, dangers, opportunities, and strengths, I know the kind of information that will open the door the next time I want to connect.
And, I know how I can add value in support of the prospect's vision—I know if there's an opportunity for my firm and if so, how to approach it.
By understanding who the person wants to connect with, it gives me the raw material for continually adding value across my Target 100 network. And again, it gives me license to show up in the life of that prospect anytime I can bring an introduction that makes sense.
Finally, we're talking about humans, and to be successful in business, I think it helps to be genuinely interested in the people we're doing business with. That's where the company and personal details fit. They give you context for everything else.
How to keep track of all of this information and stay sane
You could plug all of this into your CRM for sure, but having been a bit of a CRM nomad for the last couple of years, I've yet to find one that makes it easy to store and retrieve the information in a way that allows you to understand your network.
Your brain has this amazing ability to make connections and find patterns in the information about these people. But when it's bottled up in your CRM, you're not likely to see it all in a way that lets your brain work its magic.
So, I go old-school with the process…paper and pencil. Here's how…
I use a simple template for the 3×3. I print one for each prospect and keep the 3x3s alphabetically in a binder. Every time I update one, I'll snap a photo and store it in Evernote for easy access. You could easily save a photo in most CRMs.
Having a binder allows me to sit with a cup of coffee and flip through my Target 100 making mental connections and finding opportunities that would otherwise be impossible to see.
And, that's one big reason to focus on your Target 100. This process would be unmanageable with 1000 prospects. But, then again, in most professional firms you don't have thousands of active prospects that deserve your focused attention in any given quarter.
How to execute your relationship building
I've alluded to the process of working your relationships, so they move into your sales process, so let me summarize.
Have default moves. Knowing what you'll do at specific stages of the relationship development process is essential for taking effective action. Decide how you'll open relationships—I use our podcast. Decide how you'll show up and help the prospect—I'll typically send deeper information to a prospect that will help them move toward their 3-year vision or connect them with key contacts of mine.
The point is this; you don't want to have to think about the next move continually. Have a few good defaults, then get into action.
Limit your active prospect list. You can only take focused action on so many prospects at once. The Target 100 is a focusing tool. Sure, we've got thousands of prospects in our database, but most aren't ready to do business. Those that, by their behavior, are most interested in acting now or very soon move into our Target 100, along with hand-selected prospects we want to work with. One-hundred to one-hundred-fifty is about the limit. Stay focused.
Review the 3×3 of every Target 100 prospect 1-2 times per quarter. You don't have to keep it in a binder, but I find it easy to have a coffee and read 3-4 pages in the binder a day, then take one action to engage each of them. Make a connection, send some information, make a call, send an email. Because I have deep knowledge of the prospect, I can quickly make an impact.
Whether you use this system or your own, the point is to have a system that puts at your fingertips the information you need to move your relationships forward continually.
Stay Unstoppable!